The holidays are a time to glitter, glimmer and shine.  To put on your prettiest frock and brighten up the cold winter nights.  This time of year is by far one of my favorite times of year…. tied with the four times a year right when the seasons are changing, which is super duper magical as well.
Unfortunately for me, I have a serious problem accessorizing, a problem which I am striving, striving, striving to amend.  In the spirit of self improvement, here are a few pretties which I would love to throw around my neck in order to look more delightful and put together… which one is your favorite?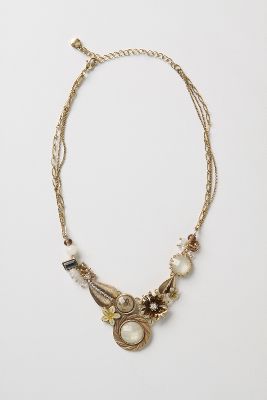 The Pessinus Garden Necklace from anthropologie
Kenneth Jay Lane Branch Bib Necklace available on shopbop
Path in the Woods Necklace from liliswan on Etsy
Bella Necklace from phuleffect on etsy
Hesper necklace by treeandkimball on etsy
Happy Tuesday peanuts!