I am going to start another post with something completely off topic but I talked to my dad last night and he told me that he was flipping channels and watching cops and that the police officer on the show was named Officer Casey Hancuff.  HAHAHA. Seriously, Officer Hancuff. It almost makes me want to get arrested just for kicks.  You can't make this stuff up.
On another unrelated note, I have had some people ask me about my use of the words "dang", "stuff", "crap", etc. I will reiterate that I am a teacher and while no one really knows about my blog other than my family, because of my job I could never put myself in the position of someone running across it and finding some inappropriate stuff. or words. you know what i'm sayin'. That being said, NOTHING you guys say EVER offends me.  As a matter of fact, you all make me laugh and want to be friends with you in real life.  Hope that wasn't too vague and bizarre sharing of personal info.
OK moving on… I know I have professed my love of Chie Mahara before… but gawd, these shoes! THESE SHOES. I want them on my feet! (And then I would teeter and fall over because my highest heels are 2.5 inches.  And I struggle in those.  A girl can dream right?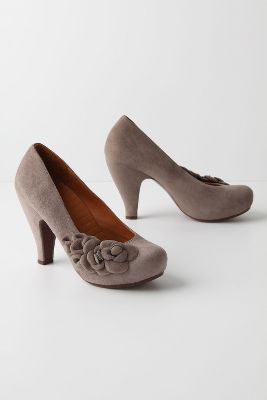 The beautiful, fabulous Stacked Smoke Heels from anthro.  Yum. 
Tomorrow is Friday and I get to go see J! Wooooo!