Visiting J for the weekend Hoorah!  It is crazy cold in NC (26 degrees is frigid for here!), so here are some lovely, lovely coats that I would love to have for cold winter days, like today….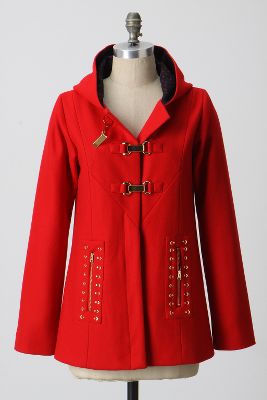 Firehouse Jacket from anthropologie – the color is so festive and pretty and I love the details!
Leather Novara Jacket by S.W.O.R.D.  I have been in love with this jacket forever, it is so gorgeous, and so much cooler than I am!
Double cloth Carlin coat at JCrew.  This color is so rich and univerally flattering and I have been obsessed with the buttons on this coat since the first time I saw it, I don't know what it is, they just do it for me!
And the Coffeeshop Houndstooth Coat from Target.  Yay for Target and fun pieces for less!