My MOH, E, is getting married just a couple weeks after me and because her wedding is small, I am the only attendant.  Awesomely enough, this means I got to pick my own dress!! Right now she is trying to narrow down the shade of blue she wants (somewhere between teal and navy), but after that it is ON! (Like donkey kong.)
In the meantime, I have started browsing dresses I love, so eventually I can show her a couple I like and hopefully she'll see one that she thinks is perfect too 🙂  Has anyone else had this experience of getting to pick their own dress?  It definitely makes me smile.
JCrew definitely has great dresses that are bridesmaid-esque AND re-wearable.  I think this would be darling at a summer wedding.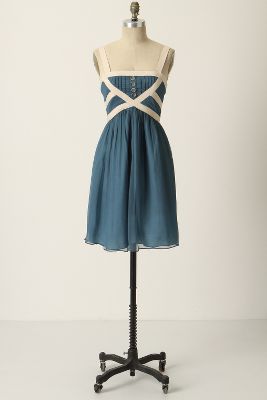 E is getting married in Wilmington, NC and still debating whether to do an indoor or outdoor ceremony.  This might  the perfect little dress for an outdoor wedding in August at the beach.
This dress from Notte by Marchesa is waaaay fancier than any wedding I'll ever be in but its soooo pretty and I lurrrrve it, so I included it anyways. (Bloggieland = fantasyland a wee bit.)
Shoshanna's one shoulder dress from shopbop would keep me cool and pretty.
Diane von Furstenberg's dress would be tooooo much of a showstealer, but the colors are right and its flippin' awesome.  (Be Mine!!)
Well that's my roundup, muffins!! Hope you are all having a wonderful week and that it warming up for you a bit, like it is here in NC!